We empathize with the challenge of finding the appropriate proposal solution, as we have personally experienced it. With more than ten years of experience in the creative industry, we've come to understand that time-saving, ease of use, and, above all, securing projects are what matter most.
Our goal with this comparison is to help you in making an informed choice between Nusii and Pandadoc as a solution for your proposal needs.
Fast, simple, intuitive and laser focused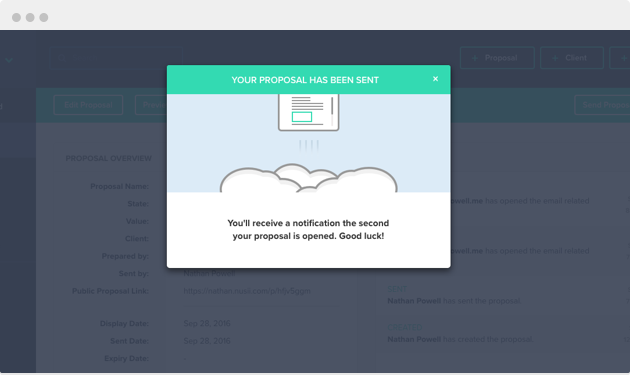 Nusii is designed to do one thing and do it well; create and manage your proposals as easily as possible. We keep everything under one roof meaning you won't need to go elsewhere to create your proposals.
There's no doubt that the folks over at Pandadoc offer a great service for the right business, but we feel their focus is a little broad. They want to be all things to all people. Covering so many bases means they alienate those who crave simplicity. The simplicity that can be found in a laser focused service such as Nusii.
We think Nusii is the best proposal software on the market due to its ease of use and intuitive nature. It was designed to be functional, quick, look great and keep you from spending any more time than necessary logged in. That's right, we don't want you to be spending all day managing proposals! And it's not just us that's saying this…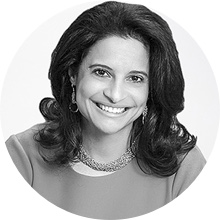 "There were so many features (in Pandadoc) that in the end it became overwhelming. I spent more time learning how to use the tool than I did writing proposals... has superior usability and is just so clean and easy to use. You guys did a great job!"
Gina Nieves. MarkNet Group
Your most profitable clients at a glance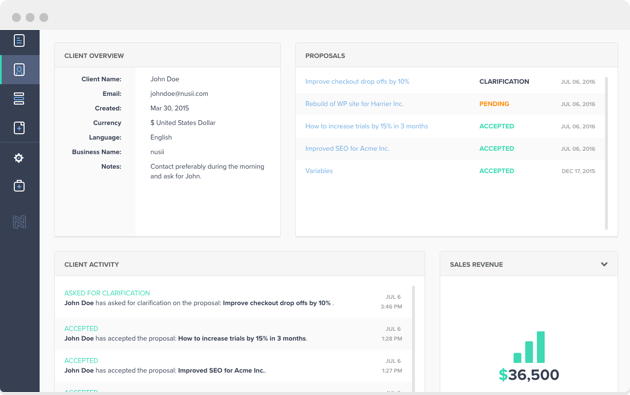 At the end of the day it all comes down to revenue and Pandadoc gives surprisingly little information about this. Not all clients deserve the same amount of attention. Whether you are a freelancer or an agency, knowing which clients are contributing the most to your bottom line is crucial to your success. Nusii will show you exactly how much each client is worth to your business. This knowledge can help you find additional clients who match the same profile and prospect the right kind of new clients.
Nusii's Client Overview will show you at a glance:
Your sales revenue per client.
Your Acceptance rate for each client.
When a client opens your emails and at what time.
When a client opens your proposals and at what time.
When a client downloads a copy of your proposal as a PDF.
When a client requests further information.
When a client Accepts or rejects your proposal
When they e-sign (which they can do right from their browser)
Any additional notes about their business.
Let's talk about pricing
If you want proposal templates, which we're sure you do, and you need integrations such as Zapier you'll need to be on Pandadoc's Business plan which is priced at $49 per user per month. If you're already using Pandadoc and you are an agency of, say, 5 people, you'll know this quickly adds up. In fact you'd be paying $245/month.
Let's compare that to Nusii. Nusii's equivalent plan is called Agency and it's also available for $49/month. Here's the difference though. You get the e-signatures and all the integration plus 5 users thrown in for free. Yes, you can have your whole agency sending proposals with Nussi for $45 and if you grow you can add each additional member for just $19/month extra. Not bad, eh?
If you are ready to start a trial, just click below or if you have any further doubts, our team will be delighted to help. By the way, we don't outsource our customer service here so you'll always be speaking directly to the Nusii team. We think that this personal touch is important and many of our customers do too.