Feature Update: Proposal Overview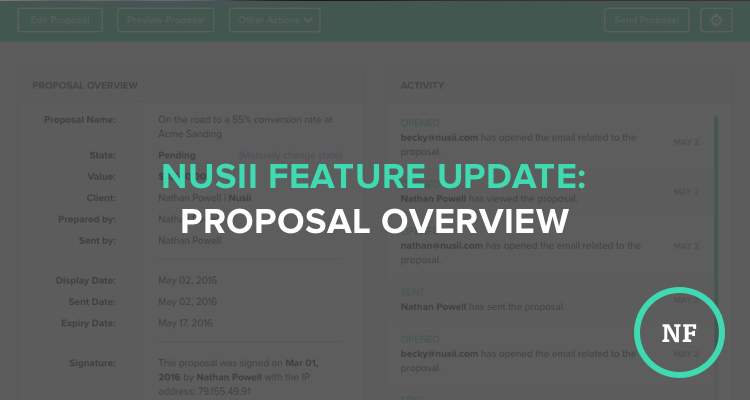 How much information is enough information? When it comes to sales proposals, the answer is probably, 'As much as you can get!' Which is why we're excited to announce our latest update; The Proposal Overview.
Nusii has always provided the necessary information regarding the status of your business proposals, however as of today we've taken it a step further. All proposals now have an extensive overview screen that allows you to check essential information at a glance. Here's some of what you'll find:
The state of a proposal: Has it been accepted, rejected, is it pending? Do you need to manually update the status? This is the place to do it.
Price: See how much the proposal is worth to your business.
Client: Who was the proposal sent to?
Prepared by and Sent by: If you have several people on your team, you can check who prepared and sent the proposal. You can also update this if the proposal is still in draft mode or pending.
**Dates: ** Check the Sent and proposal Display date. Here you can choose to send using the current date, or by selecting a future date.
**Signature Details: ** Once a proposal has been signed you can see all the relevant details, including your client's signature, the date on which it was signed and the IP address it was signed from.
**Proposal Activity: ** All activity associated to your proposal including; when it was sent, whether your client opened the email associated to your proposal, the date your proposal was opened, whether a PDF was downloaded and of course when it was accepted.
**Excluding Totals: ** You can choose whether to exclude pricing totals in your online and PDF version of your proposal.
**Reporting: ** Is this even a proposal? Maybe you need to get a monthly Report to a client. Nusii can do this for you and this is the place to do make do it.
**Expiry date: ** Adding an expiry date can be a great way to add urgency to your proposals.
Here's what the new screen looks like.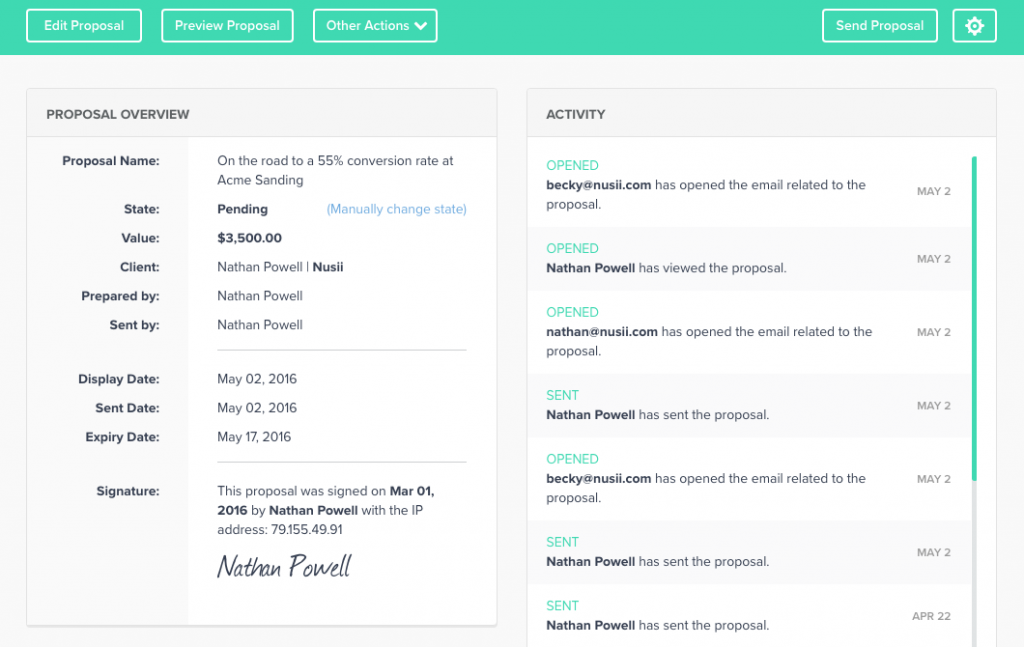 More proposal information than ever
As you can see, there is a ton of information available to you.
With a clearer view of your proposal's activity, it's easy to see if your client is engaging with your proposal. This means you can reach out to those who might need a nudge, at just the right time.
The Proposal Settings dropdown can also be accessed from here, making it easier than ever to get those last minute changes in.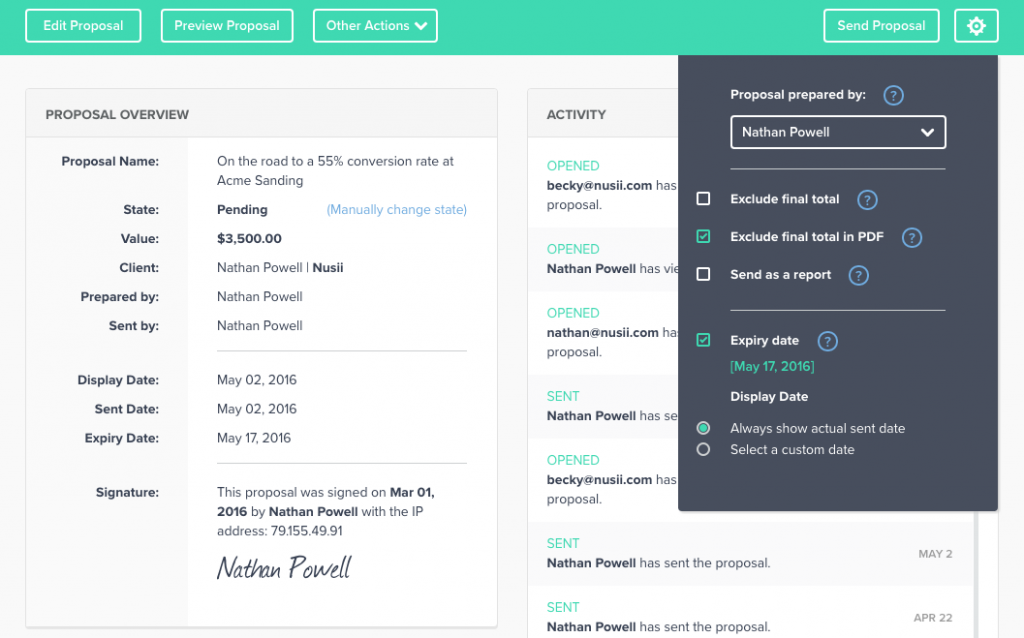 We're currently working on the much requested Archiving feature, which we hope to release very soon.
Any questions or suggestions… you know where to find us!