Zapier and Nusii Integration is Live!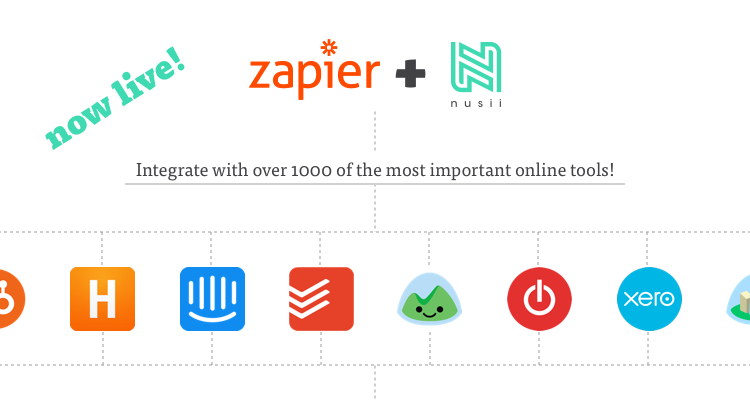 You may have heard us mention from time to time how we're a small business and proud of it! But being small sometimes means we need a helping hand. And automation done right, can be a huge helping hand. But how?
Let's suppose that you're a Nusii customer and we're having a coffee together. I bet that after a short while you'd say, "You know Nathan, Nusii is awesome and all, but I wish it could do X". (You know it's true ;) Well..
Say hello to Zapier. As of today we are officially on the Zapier cool list. The beta is over and we're ready to rock your world…
…But in case you've never heard of Zapier, the short (and long) version is that it's an online platform that's used to communicate between two different apps. In this case Nusii and [Insert the app of your choice]. Seriously, it's awesome. Free and awesome.
Zapier uses what it calls a Zap to fill in the gaps between different services. And if you're wondering what a Zap is, it's an automated workflow (often already created and ready to rock) that is composed of a Trigger and an Action. This let's you add super powers to Nusii.
So if this already sounds good, you'll probably want to know some of the ways in which Zapier can be useful to you and your business. Let's have a look.
Your accountant needs to know when new business comes in.
Yes, I hate accounting too, so if you want to stay in the black you'd better have your house in order. So here's one very simple, yet very powerful workflow in which Zapier can help you save time… and keep your accountant happy.
I was personally able to set this Zap up in a matter of minutes…
Here's the run down;
A proposal is accepted.
The Zap kicks in.
A prewritten email template with details of the proposal is sent to your accountant (or email address of choice).
Everyone saves time and a stress free workflow is created.
Time invested, 2 minutes.
Time saved over the years?… Lots!
Create and send an invoice with the software of your choice.
As you saw from the example above, Zaps are very simple. Once you've got your first one up and running, the rest just get easier.
So let's look at how Nusii might work in conjunction with your favorite invoicing software.
A proposal is accepted.
The Zap kicks in.
An invoice is generated using data from the accepted proposal.
Invoice is sent to your customer.
You get paid.
The project begins!
Creating a Proposal from a Typeform entry
This one I love. When I was freelancing I used Typeform all the time to collect data from potential customers. Once collected I'd go through the relevant info and if everything looked OK, I'd jump into the planning stages of a proposal. However, thanks to Zapier you can have Nusii automatically create a proposal based on the data that is collected. How cool is that!!!
So it would look a little something like this:
Customer arrives at your site.
Fills out and sends off their questionnaire using Typeform.
A proposal is created in Nusii.
You jump in and take over on the personalization side of things.
Now how much time will this doozy of a Zap save you? A TON.
So you see, Zapier can save you so much time and truly help to streamline your business. Especially when you take into account the multitude of services it takes to run any business. Wouldn't it be fantastic to have them all communicate and "sort it out" amongst themselves? Now you can.
We have 10 ready-made Zap templates waiting for you inside Nusii. As soon as you connect your account to Zapier these will be available to you. But remember, the three examples you saw above are just the tip of the iceberg. You can create almost any Zap you like. They sky's the limit.
If you don't already have your free Zapier account, drop by and signup today. And of course, if you don't have a Nusii account yet either, check out our plans and see which works best for your business!
Good luck